B/N 914–Asian Development Bank – 50 years of Development Partnership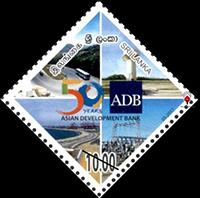 Sri Lanka Philatelic Bureau of the Department of Posts has issued a new postage stamp to commemorate 50 years of the Asian Development Bank (ADB) in the denomination of Rs.10.00 on 6 February 2017.
Date of Issue:
6th February 2017
Denomination:
Rs.10.00
Stamp Designer

Mr. Ruwan Indrajith Upasena

Catalogue No.
CSL 2214
Sheet Composition:
20 stamps per sheet
First Day Cover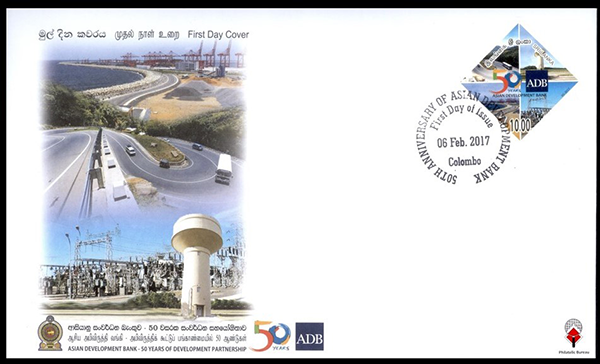 Asian Development Bank – 50 years of Development Partnership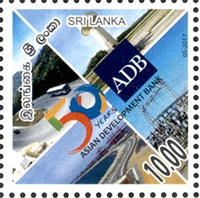 Sri Lanka is one of the founding countries of ADB which was established in 1966. With its first loan to the country in 1968 to help modernize tea factories, ADB progressed to fund projects in a variety of sectors according to the needs of the country and in keeping with the development policies of the respective governments of the day. Since the initial years, ADB has cumulatively lent about $8.2 billion to the island nation.
During its 50 year partnership with Sri Lanka, ADB has contributed immensely towards the country's development, through upgrading infrastructure, improving education and skills-based training, and reconstruction of conflict and tsunami affected areas. ADB has also supported the growth of small and medium-sized enterprises, development of agriculture and natural resources, and management of the public sector.
Some of the flagship projects in the country includes the first ever expressway in Sri Lanka – the Southern Expressway, expansion of the Colombo Port and the upgraded Udatenna - Mahiyangana road.
Support for the transport sector is also improving accessibility of rural areas and embracing the rural population in economic and social development.
ADB continues to support Sri Lanka's energy sector, promoting the development of clean energy, energy efficiency, and strengthening the country's electricity network. ADB's support towards rural electrification will help Sri Lanka achieve its target of 100% nationwide access to electricity.
In the water and sanitation sector, ADB financing has helped 2 million people access safe water, strengthened institutional capacity, and supported sector reforms.
In addition to the development of skills, education projects supported by ADB have modernized secondary education in Sri Lanka. Access has been broadened, quality and relevance have been enhanced, and policy and service delivery have improved in line with market demand.
Celebrating this golden milestone, ADB as a regional development bank is proud of its solid partnership with the Sri Lankan government, and looks forward to taking this partnership to greater heights in the years and decades to come.
ADB, based in Manila, is dedicated to reducing poverty in Asia and the Pacific through inclusive economic growth, environmentally sustainable growth, and regional integration. ADB is owned by 67 members of which, 48 are from the region.
All rights received. All right to identify the Department of Posts as the Author and designer of this Bulleting has been asserted in accordance with the Copyright, Design and Patents Act 1988.No part to this publication may be reproduced, stored in or introduced into a retrieval system, or transmitted in any form or by and means (electronic, mechanical, photocopying, recording or otherwise) without the prior permission from the publisher. Any person who does and unauthorized act in relation to this publication may be liable to criminal prosecution and civil claims for damages.