B/N 900–Archaeological Society of Sri Lanka – Golden Jubilee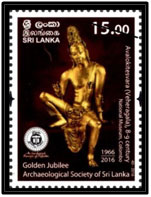 Sri Lanka Philatelic Bureau of the Department of Posts has issueda new postage stamp to commemorate the Golden Jubilee of the Archaeological Society of Sri Lanka in the denomination of Rs.15.00 on 08thSeptember, 2016.
| | |
| --- | --- |
| Date of Issue: | 8th September 2016 |
| Denomination: | Rs.15.00 |
| Catalogue No. | CSL 2175 |
| Sheet Composition: | 20 stamps per sheet |
First Day Cover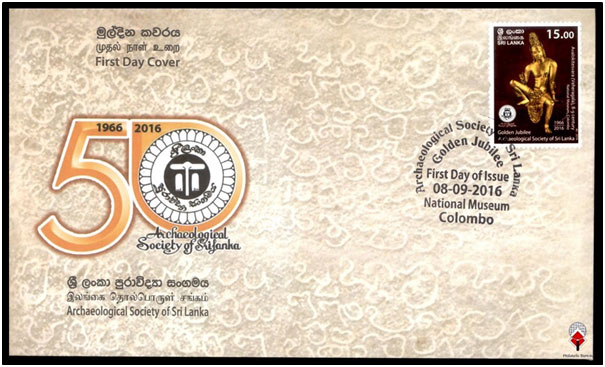 Archaeological Society of Sri Lanka – Golden Jubilee
The Society was established in March 1966 by a group of eminent academics who were interested about the history, archaeology and culture of Sri Lanka. Its membership is open to any scholar interested in these topics.The objectives of the Society include, conducting monthly lectures, conferences,study tours, exhibitions, issue of publications and relevant international co-operation on the above topics.Research by its members is published in an annual Journal 'Sri Lanka Puravidya Samhita' and a few books.
Up to the Golden Jubilee, its 50 years of existencehas been presided previously by Dr. Nanda Deva Wijesekera, Prof. GunapalaMalalasekera, Ven. KamburupitiyaVanaratana, Prof. Chandra Wickramagamage, and Prof. ViniVitharana. At present, the president is Dr. Mahinda P. Malalasekera.
More information of the society and its activities can be found on the Archaeological Society website, archaeology.org.lk
The stamp issued to commemorate the Golden Jubilee of the Society depicts a Gilt Avalokitesvara statue.
Gilt Avalokitesvara, was discovered in 1968 at SirisangaboVihara, Veheragala in Anuradhapura District, Sri Lanka.The statue is dated to 8th-9th Century CE and is currently on display in the Anuradhapura gallery of the Colombo National Museum.It is solid cast in one piece, with a height of 50 cm. Mahayana Bodhisattva Avalokitesvara is seated in a combination of lalitasana and rajalilasana, displaying the kataka mudra with the right hand, a gesture intended to hold an attribute. The eyes are inlaid with rock crystals and the elaborately plaited jatamakuta is inset with precious stones. The large empty space in the center of this hairdress would have been inset with a cameo figure of Buddha Amitabha. This statue is among the most magnificent bronzes found in Sri Lanka.
All rights received. All right to identify the Department of Posts as the Author and designer of this Bulleting has been asserted in accordance with the Copyright, Design and Patents Act 1988.No part to this publication may be reproduced, stored in or introduced into a retrieval system, or transmitted in any form or by and means (electronic, mechanical, photocopying, recording or otherwise) without the prior permission from the publisher. Any person who does and unauthorized act in relation to this publication may be liable to criminal prosecution and civil claims for damages.