B/N 876 – Davuldena Sri Gnanisssara Maha Nayake Thero
Sri Lanka Philatelic Bureau of the Department of Posts issued a new postage stamp in the denomination of Rs. 10.00 on 31st December, 2015 to mark the Birth Centenary of the Most Venerable Davuldena Sri GnanissaraMahanayakeThero.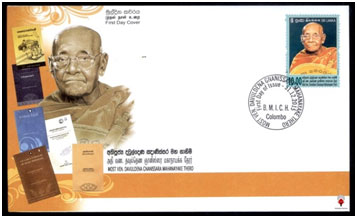 | | |
| --- | --- |
| Date of Issue: | 31st December 2015 |
| Denomination: | Rs.10.00 |
| Catalogue No. | CSL 2134 |
| Stamp Designer: | Mr. Kumudu Tharaka Peiris |
| Sheet Composition: | 20 stamps per sheet |
Davuldena Sri Gnanisssara Maha Nayake Thero
If someone were to find a living example of the noble qualities of priesthood and the noble qualities of cosmopolitan versatility, genuine qualities of humanity, symbol of humility, maturity of age, quality and wisdom personified in one individual in full measure, one will not find such a personality in any person other than the MahanayakeThero of the UdarataAmarapuraSamagriMaha Sangha Sabha , the Most Venerable MahanayakeThero of the Sri Lanka AmarapuraMahaNikaya, Sanskrit Cakravarti, GantaVisharada, scholar of other languages, JinaSasanaKirthi Sri, scholar of six languages, Great Preceptor, Sri Sumangala Vidyavathansa, AggaMahaPandita, RajakiyaPandita, D. Litt, Vidyodaya Dharma Shastra Vibushna, DaiviBashaParameshvara, Venerable Davuldena Sri GnanissaraMahanayakeThero.
Born to the family of the pious devotee DavuldenaAlokaMudiyanselageKawurala of UvaParanagama and GajanyakeMudiyanselage Kiri Menike, on December 31, 1915, our most venerable hero entered the Buddha sasana under the tutelage of VenUmele Siri Piyrathanathero, the chief incumbent of SapugolleThapodhanaramaya and UmelePannanandaNayakathero in 1928. Being the first in the Final Class of the VidyodayaPirivena, the foremost seat of learning in the east, winning the coveted Syamaraja prize our MahanayakeThero won the RajakeeyaPandita title as well.
Since then all the titles and honours in the sphere of learning came in search of him and it is most appropriate to say that it was not to embellish him but to have his position embellished by such titles that they came in his way. Works such as Maranganavijayam, Yathidutham, Dharmacinta, Vairagyacinta, Rajaratnakaraya, Yasodharacaritam, Shanastavakavya, Mahamahendrakninashravagamanam etc. written in Sanskrit are only one area of his academic contributions.
Davuldena Sri Gnanisssara Mahanayake Thero who is well known at home and foreign countries alike occupies a foremost position in the present day generation of the world sangha community. Devoid of conceit to the core like the proverbial door-mat that bears anybody who treads upon it, he lives with equanimity with no consideration for wealth, power, cast, being learned or ignorant, laity or clerical, young or old. We wish good health and longer life to the Most Venerable Davuldena Sri GnanissaraMahanayakeThero who completes one hundred years of life for more service to the sasana.
Rajakiya Pandita Dr. Medagoda Abhayatissa thero
Senior Lecturer
All rights received. All right to identify the Department of Posts as the Author and designer of this Bulleting has been asserted in accordance with the Copyright, Design and Patents Act 1988.No part to this publication may be reproduced, stored in or introduced into a retrieval system, or transmitted in any form or by and means (electronic, mechanical, photocopying, recording or otherwise) without the prior permission from the publisher. Any person who does and unauthorized act in relation to this publication may be liable to criminal prosecution and civil claims for damages.